Are you considering moving to San Jose and wondering what type of housing would be the best fit for you and your family? Have you considered a multigenerational home? San Jose, being one of the largest cities in California, has a diverse housing market that includes various options for multigenerational living.
A multigenerational home is designed to accommodate more than one generation of a family under the same roof. This type of housing has become increasingly popular in recent years, particularly in cities like San Jose, where housing costs are high, and families are looking for ways to share expenses.
So, if buying a multigenerational home has crossed your mind, you aren't alone. Depending on what stage of homeownership you're in, there are different reasons it could be the right fit. The chart below shows responses to a recent survey from NAR about the reasons people have bought a multigenerational home: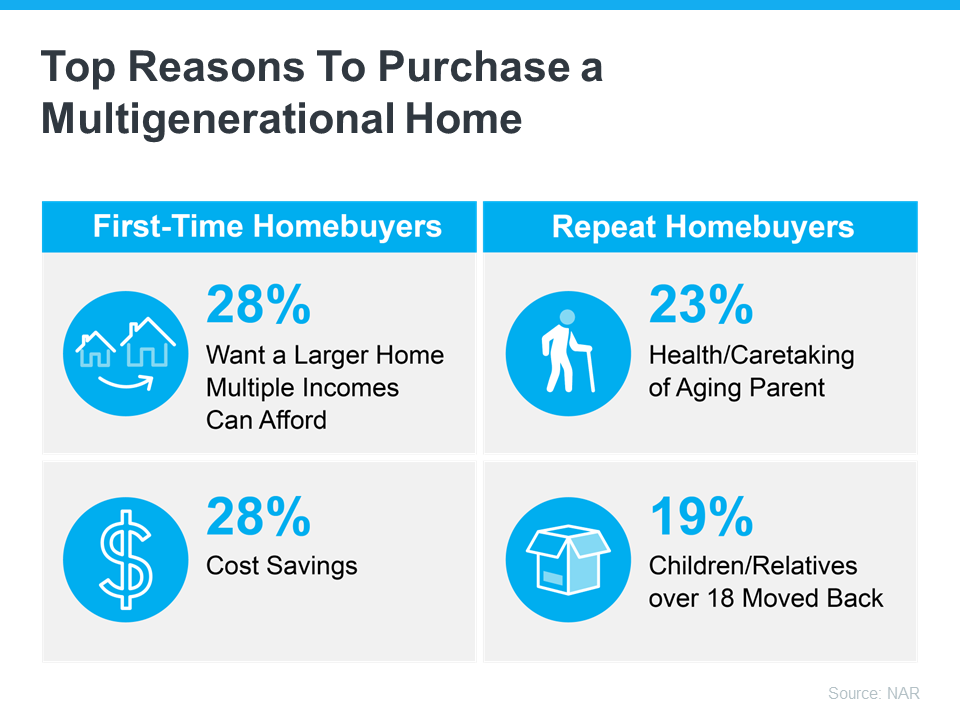 Another advantage of multigenerational living in San Jose is the opportunity for family members to provide care and support for each other. This can be particularly beneficial for older family members who may need assistance with daily tasks or medical care. In a multigenerational home, family members can provide this care and support, rather than relying on outside caregivers.

San Jose has a diverse housing market, and there are several options available for multigenerational living. One option is to purchase a single-family home with an attached or detached in-law unit. These units are typically smaller and can be used for grandparents or other family members. Another option is to purchase a larger home with multiple bedrooms and living areas, allowing for each family unit to have their own space.

If you're considering multigenerational living in San Jose, it's important to carefully consider the needs of all family members and ensure that the home you choose meets those needs. Additionally, it's important to discuss expectations and boundaries with family members to ensure that everyone is on the same page.
Bottom Line
In conclusion, multigenerational living can be a great option for families looking to share expenses, provide care and support for each other, and maintain close family relationships. With the diverse housing market in San Jose, there are several options available for families considering this type of living arrangement. If you're ready to buy a house, consider the opportunities of a multigenerational home. Let's connect so you can explore your options in our area.