If you're thinking of waiting for San Jose's housing market to cool down before buying a home, you might want to reconsider. The idea of waiting for lower home prices may seem tempting, but it's not always the best option in a competitive market like San Jose's.
San Jose's housing market has been on the rise for the past few years, and it's expected to continue that way for the foreseeable future. This means that even if you wait for a year or two, home prices may still be higher than they are today. In fact, waiting too long might end up costing you more in the long run.
San Jose is one of the most competitive housing markets in the country. It's not uncommon for homes to receive multiple offers within hours of being listed. So if you wait too long to make an offer, someone else might snatch up the home you had your eye on.
Even if you do manage to snag a home for a lower price, you might end up paying more in other ways. For example, you might have to compromise on the location or the condition of the home, which could end up costing you more in the long run.
A recent survey from Zonda shows 53% of millennials are still renting right now because they're waiting for home prices to come down. But here's the thing: the most recent data shows that home prices appear to have bottomed out and are now on the rise again. Selma Hepp, Chief Economist at CoreLogic, reports:
"U.S. home prices rose by 0.8% in February . . . indicating that prices in most markets have already bottomed out."
And the latest data from Black Knight shows the same shift. The graph below compares home price trends in November to those in February: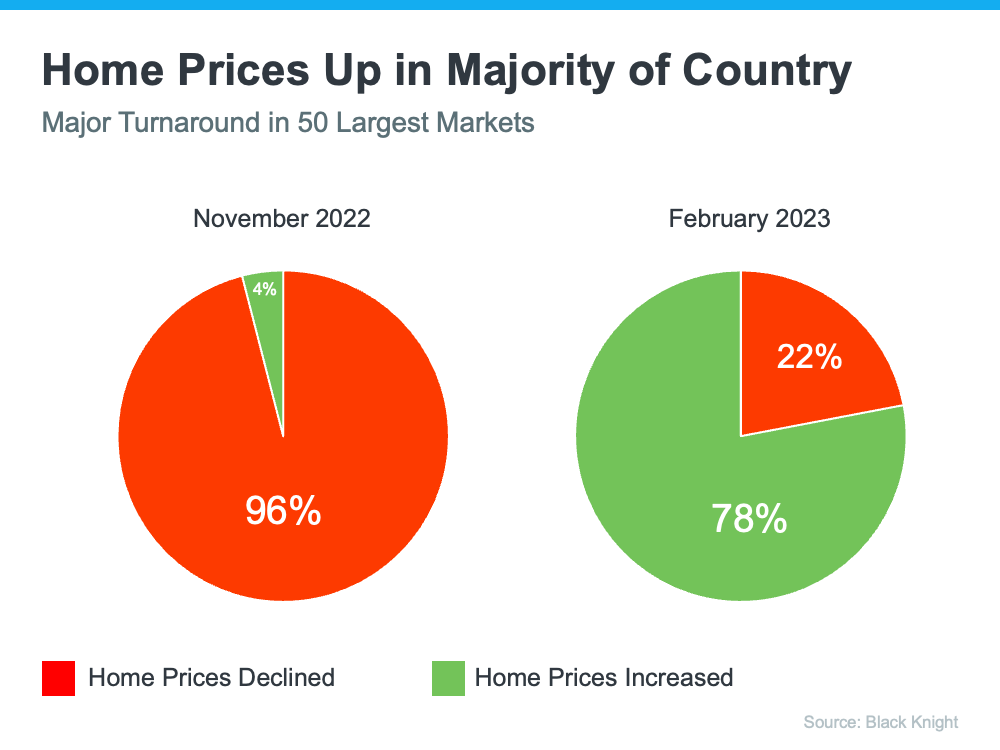 So, should you keep waiting to buy a home until prices come down? If you factor in what the experts are saying, you probably shouldn't. The data shows prices are increasing in much of the country, not decreasing. And the latest data from the Home Price Expectation Survey indicates that experts project home prices will rise steadily and return to more normal levels of appreciation after 2023. The best way to understand what home values are doing in your area is to work with a local real estate professional who can give you the latest insights and expert advice.
Bottom Line
Overall, waiting for lower home prices in San Jose might not be the best idea. With the market expected to continue rising and competition at an all-time high, it's important to act quickly and make smart decisions when it comes to buying a home in this city. Let's connect to make sure you understand what's happening in our local housing market.